---
The mayor of Alma-Ata explained the lack of weapons for the retreat of the security forces during the clashes According to Akim of Alma-Ata Bakytzhan Sagintayev, security officials in the city were not armed with military weapons. In addition, before the appearance of the army, they were not given the order to shoot to kill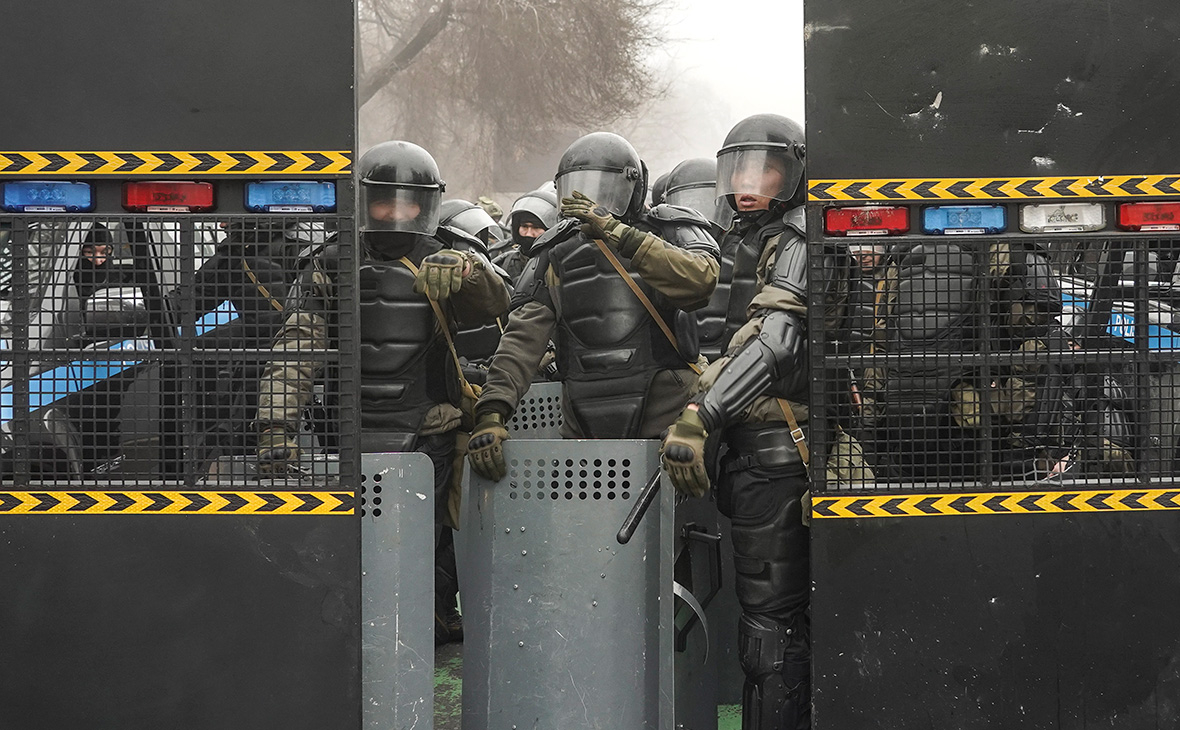 Only the city contingent of security officials was involved in suppressing the riots, no one was involved from the outside, Akim (mayor) of Alma-Ata Bakytzhan Sagintayev told RBC. The city was home to the National Guard, police services and a certain contingent of military cadets, but none of them had weapons, he says.
" They had shields, clubs. Most of them have nothing on their hands at all. They used noise grenades to drive them away. They had no other on hand '', & mdash; Sagintayev explains why the security forces were defenseless in front of the armed crowd.
" When you are attacked with weapons, sticks, rods, stones and beaten. When they stop a fire engine, bus, KamAZ, they throw out [the driver] and ram [the security forces' cordon]. When they go in a car, from all windows [with weapons], even in the trunk, like natural fighters. Scary & raquo;, & mdash; he describes the situation in the city on January 4 – 5. Therefore, it is incorrect to say that the security forces have surrendered, says Sagintayev, who has headed the country's largest city since 2019. " People did not go to rally, people went to fight. And when tens of thousands of people attack the police, take everything away, I think it is incorrect to say that they have surrendered, '' & mdash; added Sagintaev.
The Almaty security forces were not given the order to use military weapons and shoot to kill, the mayor said. " You just think, people go & mdash; let's shoot? [The weapon was used], when already these bandits, the terrorists began to shoot first. In our akimat there were unarmed, they were also destroyed, beaten, killed, their heads were cut off … '' & mdash; he says. At the same time, adds Sagintayev, the attackers in the goroden managed to capture not a single police department, where there were weapons rooms.
Sagintayev promised that the state would help businesses affected by the riots. Now, according to the city authorities, the damage amounted to about 100 billion tenge (17.2 billion rubles). " In the near future, we must submit the figures to the Ministry of Economy, & mdash; he said. & mdash; The government will give [funds], and we will connect the local budget. The losses incurred by small and medium-sized businesses will be fully compensated. '' Soon, actions began across the country, and political demands began to sound, including the resignation of the government. In Almaty, the country's former capital, protests escalated into hostilities on 4 and 5 January; the police completely disappeared from the streets of the city, leaving it to be plundered by looters. The authorities managed to regain control over the country's largest city only after the country's President Kassym-Zhomart Tokayev turned to the CSTO for help, and troops were brought into the center of Alma-Ata, which began a " cleanup '' with the use of military weapons. More than 150 people died during the riots and their suppression. At least 17 security officials were killed.
Follow RBC on Twitter Get news faster than anyone
---
---
---
---
---
---