---
"The situation is to be analyzed, it could end badly"
Serbian President Aleksandar Vučić spoke on Serbian radio and television about the incident that occurred on April 6 with an Air Serbia passenger plane, flying from Belgrade to Moscow. Already in the Russian air zone of responsibility, just a kilometer below the civilian aircraft, a gray fighter appeared, the outlines resembling a NATO F-15 or Eurofighter. Vučić said that the country's authorities would request information from Russia and NATO on this matter.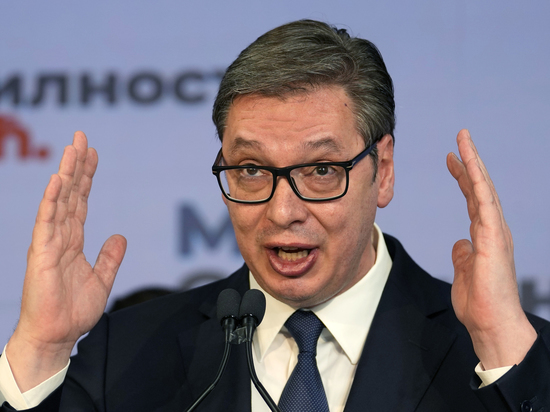 Photo: AP
This "MK" incident commented a military expert, ex-head of the anti-aircraft missile forces of the Special Forces Command (air defense district of Moscow), reserve colonel Sergey Khatylev.
Aleksandar Vučić said he made the information public so that everyone would understand the pressure Serbia, which is now the only European country with flights to Russia, is under. According to Vučić, it is important to know who is threatening civilian air travel and by what military means. Moreover, the exact coordinates are known where and at what point of the route of the Serbian liner this fighter appeared.
the air defense system is set to the so-called "three-height" mode. That is, next to this aircraft at an altitude closer than 3 km there should not be a single air object. There are no such stringent requirements for civil aircraft.
– The fact that this military aircraft was covered by a civilian ship is still not a fact. He could go at the flight level assigned to him by the dispatcher. That is, the ground point allowed him to fly at such an altitude, since there were no special requirements for the route, including taking into account the flight of this Serbian aircraft. & nbsp; The fact that the fighter went below him for kilometers – & nbsp; this is quite enough. But the fact that this military aircraft was right there at the moment of entering the zone of responsibility of our air defense, here questions arise: what was it doing there, why was it there and for what?
It is necessary, of course, to analyze his entire route – how he flew, whether he violated our airspace or not. The statement of the Serbs should be checked by specialists.
We have not officially announced a violation of the state border. And I assure you, if there had been a violation of the state border, a pair of fighters on duty would have been raised instantly. We have worked out this maneuver perfectly.
– If such a task were assigned to our aircraft, then yes. But first steps would naturally have been taken to put him aside. This is subject to international rules. First, he would have been given the command "follow me" by radio, they would have started to force him to land. If he did not obey, then our fighter would first begin to "run over" on this intruder, would push him to a safe state from a civilian liner and then, if a command came from the ground, he could destroy him.
– She watched the mark of a civil aircraft on the screen, setting that this is such and such a specific aircraft, which is flown at the request of foreign civil aviation authorities. And suddenly the next mark appears next to it, which is already a precedent – it shouldn't be there, since the military aircraft does not fly at the request, it should not have been there at that time. Therefore, this fact in itself is a sign that some unauthorized events took place there. In any case, this situation with the NATO aircraft can definitely be considered a provocation.
---
---
---
---
---
---