---
The military was wounded along with the journalist
In Mariupol, at the exit from the plant named after Ilyich, during the shelling, the First Channel war correspondent Irina Kuksenkova was wounded. On the film crew, which was returning from a mission, fire was opened from an automatic grenade launcher. Irina is well known in MK, she previously worked in our newspaper, wrote materials from "hot spots". Relatives of Ira spoke about her well-being.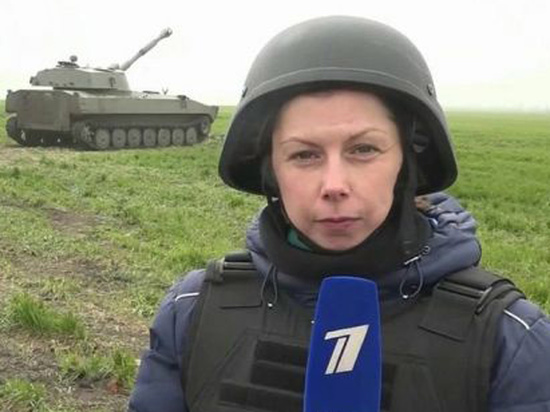 Photo: Frame from video
Irina's ex-husband, her close friend Viktor Sokirko, told MK that she got in touch twice after being wounded. And just recently I talked with my daughter via video link.
— A group of servicemen carried out an operation on the territory of the plant named after Ilyich. And a film crew went with them, — says Viktor. — During the preparation of the previous story, Irina talked with the general who is in charge of the operation there. The journalists were given full carte blanche, but, accordingly, in compliance with all security measures. They filmed the story, everything was calm. On the way back, their group was spotted and opened fire on it from an automatic grenade launcher AGS-17 ("Flame"). It has an effective range — about 300-400 meters.
— She was hit by three shrapnel in her legs. Grenades at AGS-17 — tape type. Radius of continuous defeat — about seven meters. One of them exploded somewhere nearby.
— When wounded on the battlefield, promedol is always injected. Syringe-tubes with one or two cubes of this painkiller are in the fighter's individual first-aid kit. Each person has a different pain threshold, regardless of what kind of injury he received — light or heavy. Therefore, it is necessary to have an anti-shock agent on hand.
Ira was quickly bandaged on the spot and the bleeding was stopped. Carried out from under the shelling on the hands. The soldiers were covering for her. They were also hospitalized.
Operator Dmitry Kachurin and sound engineer Nikita Sevastyanov, thank God, were not injured. In Ira's field hospital, doctors treated her wounds, and then she was taken to a hospital in Donetsk. They already took pictures there, began to remove the fragments. She had three main fragments lodged in her legs, not counting the small ones. Well, if, of course, this word is appropriate here, that the blows fell on the legs. She was wearing a bulletproof vest, a helmet, but her legs were open.
— The film crew — blue helmets, they are different from the military. They had a camera with them, which was impossible to miss. They could hit journalists purposefully. After a series of reports by military officers Sasha Kots, Sasha Sladkov and Ira Kuksenkova, the nationalists added them to some lists. They were hunted down. They were, as they say, "herded".
— When she got in touch, she had a rather cheerful voice. Once in the hospital, she was preparing a report right on the hospital bed. Despite the injury, after bandaging I finished writing the plot. Real reporter! Now Ira should be transported by helicopter to Rostov-on-Don, and from there to Moscow.
---
---
---
---
---
---