---
Tekashi 6ix9ine is trolling rapper G Herbo after "Gooba" gets certified Gold.
Tekashi 6ix9ine has been beefing with quite a few rappers since his early release from prison, including G Herbo, who recently said that the rainbow-haired rapper pleaded guilty and also ratted people out, which means he didn't beat his case. "Lol but he didn't beat it he told," Herbo said, "he plead guilty too."
Though Tekashi had clapped back with some slight about Herbo having an STD, he also came for the rapper's certifications, stating that G Herbo has never had a platinum record. "Let's name a gherbo song that's platinum Akademiks post it I'll delete my gram," 6ix9ine said. G Herbo's response is what 6ix9ine is now using to troll him amidst his song "Gooba" reaching Gold status. "I went platinum in the streets somewhere you really wanna be but a never be able to go," G Herbo wrote. "& I got rich on my own nobody never made me cool & stole from me lol you basically paid to be cool you @nickcannon be safe."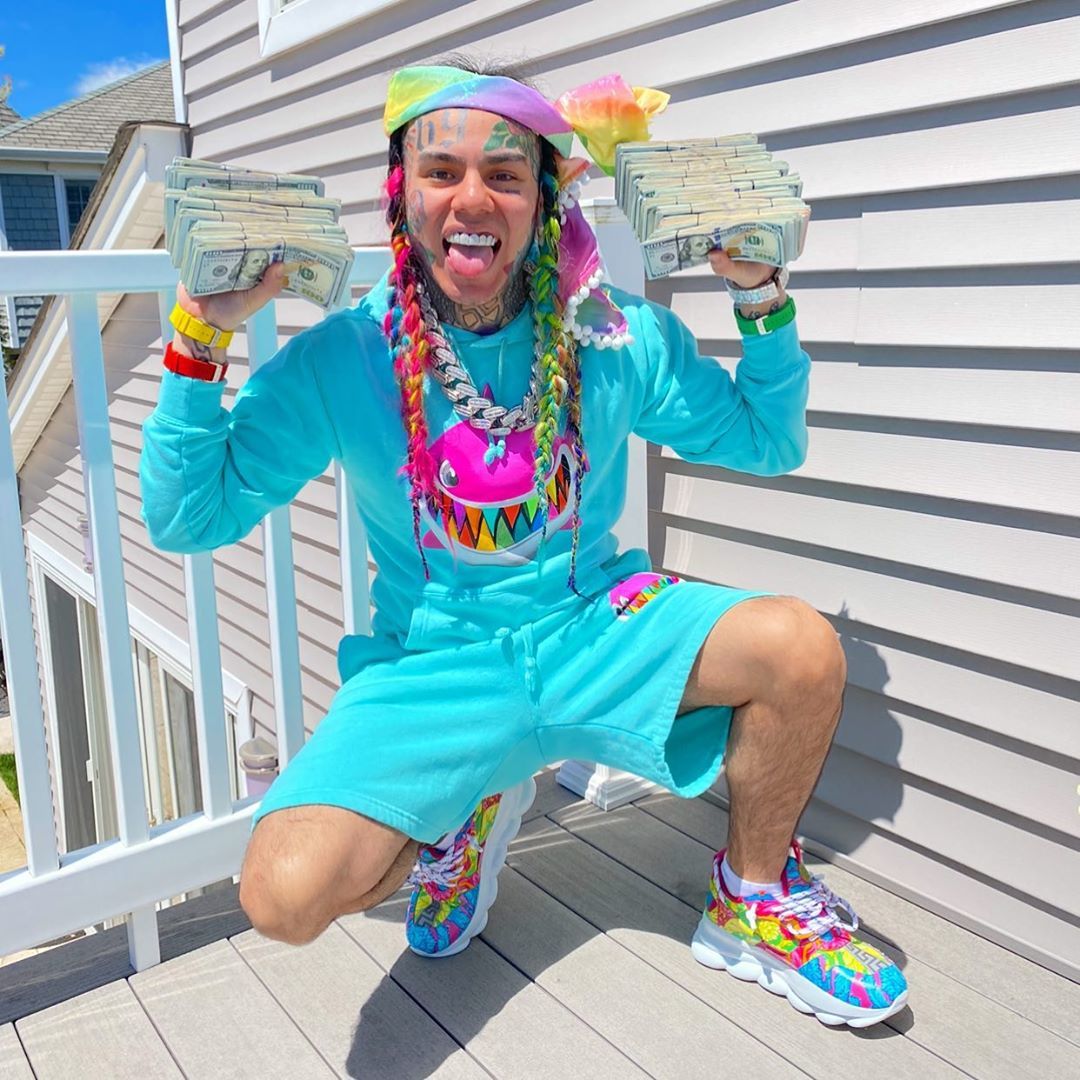 That comment was brought up again when DJ Akademiks recently shared the announcement that Tekashi 6ix9ine's latest song, "Gooba," has officially been certified Gold by the RIAA after just two weeks. While many people would be elated with the good news and perhaps show some appreciation in the comments, 6ix9ine converted into his troll form when he commented on the post. "@nolimitherbo imagine tranna be platinum in the streets," the rapper wrote. Clearly 6ix9ine has no intention of letting G Herbo live that down.
There is no denying the fact that G Herbo has not yet received platinum certification, and while it's true that he as more street cred that Tekashi 6ix9ine right now, that's not a high bar anymore. Do you think G Herbo will respond to 6ix9ine again?
View this post on Instagram
#6ix9ine ain't letting #gherbo forget about his "platinum in the streets" comment especially after his song "GOOBA" just went Gold in 2 weeks.
---
---
Chris Brown may not be the biggest selling artist this year but he is certainly the artist with the most RIAA plaques.
The R&B crooner received a whopping 40 certifications in 2017 from the Recording Industry Association of America, RIAA. The certifications and a mixture of gold and platinum plaques for some of his older music that were suppose to get certification but never did for some weird reasons. Among the plaques he received is one for a single that was certified 12 times platinum.
Chris Brown thanks his fans on Twitter for their support in making this happen and now he is on his way to being one of the greatest R&B artists of all-time. "40 PLAQUES THIS YEAR! Today the RIAA released 23 more certified platinum and gold plaques that included 12 x multi platinum singles. 74.5 million single and album sales just in the US. #TEAMBREEZY," Brown tweeted.
On November 22, Chris Brown received 22 certifications from the RIAA including a four times platinum plaque for his single "Forever," while his single "With You" gets a three times platinum certification. Two of his songs "Run It" and "I Can Transform Ya" received double platinum status while seven songs, "Next to You," "Don't Judge Me," "Gimme That," "Liquor," "Grass Ain't Greener," "Wall To Wall," and "Yo Excuse Me Miss," all received one time platinum status. On top of that, he received ten gold certified songs.
Chris Brown is still putting out a ton of new music and scoring a lot of hits. His new album, Heartbreak on a Full Moon was released with 45 songs with majority of them being new music. The project debut at No. 3 on the Billboard 200 chart and is currently at No. 11. The album has since been certified gold by the RIAA and is on its way to getting platinum status possibly before the year ends.
40 PLAQUES THIS YEAR! Today the RIAA released 23 more certified platinum and gold plaques that included 12 x multi platinum singles. 74.5 million single and album sales just in the US. #TEAMBREEZY ?? ???? pic.twitter.com/P6Lu9B58NG
— Chris Brown (@chrisbrown) December 7, 2017
---
---
2 Chainz has announced that he has a new album coming sooner than later.
The Atlanta rapper made the announcement on his Twitter page on Tuesday night while posting some photos from his new TRU (The Real University) photoshoot. "New album on the way, I'm farther than I thought I was !!! Naw I'm lying I knew I had some shit brewing #nocap #drenchGOD," he wrote. In other words he been hitting the studio laying down some tracks for the new project and he now feels confidence enough to publicly announced it.
These days artists only revealed new project when they are a few weeks away from being released, sometimes even days away. What makes this project interesting is that 2 Chainz released his last album Pretty Girls Like Trap Music in June, so if this new body of work arrives before year end it means he would have given us two albums in a matter of a few months. For Pretty Girls Like Trap Music, Tity Boi taps some big names like Nicki Minaj, Drake, Gucci Mane, Migos, Travis Scott, and more. The album was recently certified gold by the RIAA and is on the way to getting platinum certification.
New album on the way , I'm farther than I thought I was ,,!!! Naw I'm lying I knew I had some shit brewing ?????#nocap #drenchGOD
---
---
Chris Brown currently has a lot to be celebrating right now with eight of his singles getting multi-platinum certifications.
On October 3, the Recording Industry Association of America (RIAA) issued eight new platinum plaques to Chris Brown for some songs that didn't get certified in the past even though they sold millions. One song "Look At Me Now" featuring Lil Wayne and Busta Rhymes which was released in 2011 was certified five times platinum by the RIAA.
Three of the singles "She Ain't You," "Strip," "Beautiful People," and "Back To Sleep" gets certified platinum, while "Don't Wake Me Up," "Deuces," and "Yeah 3X" are all certified two times platinum. For a single to be certified platinum it would need to sell one million units and in the age of music streaming, 150 streams equal to one unit sold.
Chris Brown is currently working on his new album Heartbreak on a Full Moon due for release on October 31st. The massive project comes with 45 tracks and guest features from Usher, Gucci Mane, Young Thug, Def Loaf, Lil Yachty, Jhene Aiko, R. Kelly, Verse Simmons, Ty Dolla $ign, Yo Gotti, A Boogie Wit Da Hoodie, and Kodak Black. Chris Brown previously revealed that the project will be a double-disc album which means he could very well release hard copies, as well as, digital copies on major streaming services like Apple Music and Spotify. The album also comes with some previously released singles like "Privacy," "Only 4 Me," and "Paradise."
The last album Chris Brown released is Royalty back in 2015, so this is his first major project in three years so he had a lot of time to record a lot of songs. Breezy is surely looking to score some platinum records off this new album due on Halloween. This R&B crooner will be announcing his new tour in the coming weeks to support the album.
---
---
[Intro]
Yeah, ooh
The hotel room, always workin'
Yeah, yeah
[Verse]
Out in California countin' up my blessings
Only 24 with a multi million dollar pension
Off my catalogue
That's 'cause I'm a don like Cheadle
'Cause I'm on
And I got more songs than the Beatles, woah
That's a stretch?
Yeah, I guess
But you get the jist
Laughin' at the skeptics 'cause
I always knew I'd get this rich
Family knew and Bugus knew
That's probably about it
Quicker you come in the game
The quicker you go out it
Y'all ain't really 'bout shit
Y'all ain't got no substance
Yea I heard your little viral song
Some fun, dumb shit
Some one month shit
You're a seasonal rapper
You a bitch the world fucks
'Cause we leavin you after
Don't hit my phone with some stupid shit
That's not why I gave you my new number, you stupid bitch
Delete and block you
I don't have to, but I want to
I'm just trimming the fat
Haters drowning in doubt
Meanwhile I'm swimming in cash
I was never cool with y'all, don't try to link up now
Cuz my train left the station, but it's a brink's truck now
I switch up styles
Like I was dating Badu
It's common to hate on the truth
I'm carving my name on the roof of
Hip Hop then breakin on through
To the otherside like Jim Morrison
Guzzlin' gin wondering if I drink more than him
Scary thought
I got the juice like Barry Bonds
I ain't tryna blend in like white kids with sperrys on
You're faker than these rappers who keep tryna claim indie
Major connections millions behind you
You're not indie
Get offended, then I got you by Hip-Hops' collar
'Cause Bugus told me that only a hit-dog hollers
Top dollars what they pay me for the flows now-a-days
Free weed, free women, free clothes now-a-days
All we got is time, so my time is my investor
I'm single, so I save money and live better
I need my plaques advanced
Tell the RIAA
Underrated and overlooked
Yes but never underpaid
Blew up off the web like Peter Parker
Went from flying 32F
To private jets getting chartered
This is my departure
Use to think it was delayed
'Till I let go of the wheel and let my faith fly my plane
That's when I started taking off
Millions in my bank account
Manifested everything
Became what I would think about
20,000 dollars for the show is what I'm making now
And that's just the guarantee
Before the merch and meet and greets
And that's only accurate as of today
I'm St. Louis with my hoes fly 'em back to LA
That's when I'm there 'cause really lately I've been all over
Studios my gym I lift my family up I'm all shoulders
I fall forward I don't ever fail
I went from past due bills
To 50 bands I'm getting better mail
Every sale I make I keep 100%
I put in overtime cuz momma owes 100 in debt
That's low ballin'
No calling my phone I'm in Greece
Self pressures at my neck
Aegean Sea at my feet
Took my mom around the world
My bucket list is ever changing
Women wet on arrival fuckin' chicks is better famous
I'm poppin from the Southside to the Sudan
This time last year mom applied for a food stamps yeah
And now it's Michelin star restaurants in every country new guala
The only one in the whole place below 40 with two commas
I Love the way I did it
Can't nobody tell me shit
'Cause ain't nobody make me hot
And ain't nobody make me rich
Hope that cash that your flashings been provisioned for your taxes
'Cause the IRS is watching
Flossing could be problematic
You should chill, act like you've seen some money before
I can't date a chick that's never left the country before
So take your bra off, put your hair up
Put my hoodie on
Eyes are windows to the soul
Yours say "put me on"
I got you baby every morning like I'm mark McGrath
And your body and my hands is my next collab
I'm texting back but not enough because my life is popping
You hop from dude to dude and club to club
I'm island hoppin'
Reminiscin' back before I had one track
Back when I would put a half a gram in blunt wraps
When me and Bugus got so high before our graduation
I think I got too high, I don't remember graduatin'
Laughing thinking fuck diplomas I got plaques now
Use to celebrate 1,000 plays looking back now
I realize that the journey is everything
There ain't no destination man the journey is everything
Looking back I realize the journey is everything
Ain't no destination man the journey is everything
---
---
[Intro]
Yeah, ooh
The hotel room, always workin'
Yeah, yeah
[Verse]
Out in California countin' up my blessings
Only 24 with a multi million dollar pension
Off my catalogue
That's 'cause I'm a don like Cheadle
'Cause I'm on
And I got more songs than the Beatles, woah
That's a stretch?
Yeah, I guess
But you get the jist
Laughin' at the skeptics 'cause
I always knew I'd get this rich
Family knew and Bugus knew
That's probably about it
Quicker you come in the game
The quicker you go out it
Y'all ain't really 'bout shit
Y'all ain't got no substance
Yea I heard your little viral song
Some fun, dumb shit
Some one month shit
You're a seasonal rapper
You a bitch the world fucks
'Cause we leavin you after
Don't hit my phone with some stupid shit
That's not why I gave you my new number, you stupid bitch
Delete and block you
I don't have to, but I want to
I'm just trimming the fat
Haters drowning in doubt
Meanwhile I'm swimming in cash
I was never cool with y'all, don't try to link up now
Cuz my train left the station, but it's a brink's truck now
I switch up styles
Like I was dating Badu
It's common to hate on the truth
I'm carving my name on the roof of
Hip Hop then breakin on through
To the otherside like Jim Morrison
Guzzlin' gin wondering if I drink more than him
Scary thought
I got the juice like Barry Bonds
I ain't tryna blend in like white kids with sperrys on
You're faker than these rappers who keep tryna claim indie
Major connections millions behind you
You're not indie
Get offended, then I got you by Hip-Hops' collar
'Cause Bugus told me that only a hit-dog hollers
Top dollars what they pay me for the flows now-a-days
Free weed, free women, free clothes now-a-days
All we got is time, so my time is my investor
I'm single, so I save money and live better
I need my plaques advanced
Tell the RIAA
Underrated and overlooked
Yes but never underpaid
Blew up off the web like Peter Parker
Went from flying 32F
To private jets getting chartered
This is my departure
Use to think it was delayed
'Till I let go of the wheel and let my faith fly my plane
That's when I started taking off
Millions in my bank account
Manifested everything
Became what I would think about
20,000 dollars for the show is what I'm making now
And that's just the guarantee
Before the merch and meet and greets
And that's only accurate as of today
I'm St. Louis with my hoes fly 'em back to LA
That's when I'm there 'cause really lately I've been all over
Studios my gym I lift my family up I'm all shoulders
I fall forward I don't ever fail
I went from past due bills
To 50 bands I'm getting better mail
Every sale I make I keep 100%
I put in overtime cuz momma owes 100 in debt
That's low ballin'
No calling my phone I'm in Greece
Self pressures at my neck
Aegean Sea at my feet
Took my mom around the world
My bucket list is ever changing
Women wet on arrival fuckin' chicks is better famous
I'm poppin from the Southside to the Sudan
This time last year mom applied for a food stamps yeah
And now it's Michelin star restaurants in every country new guala
The only one in the whole place below 40 with two commas
I Love the way I did it
Can't nobody tell me shit
'Cause ain't nobody make me hot
And ain't nobody make me rich
Hope that cash that your flashings been provisioned for your taxes
'Cause the IRS is watching
Flossing could be problematic
You should chill, act like you've seen some money before
I can't date a chick that's never left the country before
So take your bra off, put your hair up
Put my hoodie on
Eyes are windows to the soul
Yours say "put me on"
I got you baby every morning like I'm mark McGrath
And your body and my hands is my next collab
I'm texting back but not enough because my life is popping
You hop from dude to dude and club to club
I'm island hoppin'
Reminiscin' back before I had one track
Back when I would put a half a gram in blunt wraps
When me and Bugus got so high before our graduation
I think I got too high, I don't remember graduatin'
Laughing thinking fuck diplomas I got plaques now
Use to celebrate 1,000 plays looking back now
I realize that the journey is everything
There ain't no destination man the journey is everything
Looking back I realize the journey is everything
Ain't no destination man the journey is everything
---
---
---
---
---
---
---