---
DJ Khaled's new album Khaled Khaled is finally here, and the rich, authentic sound of Jamaica is flowing abundantly through the voices of Bounty Killer, Buju Banton, Capleton, and a clever Barrington Levy sample for the track "Where You Come From."
Levy's 1985 release "Under Mi Sensi" provides the base for the other Jamaican stalwarts to bless the track with their words of upliftment and power. Levy's original track was all about fighting against the oppressive forces which hit out against the medicinal herb marijuana. The BBC trio [Bounty, Buju, Capleton] are also known for hitting back at the system, something Buju Banton continues to do to this day through his public lashings of the Jamaican government.
Instead of dedicated verse placements, DJ Khaled ensures his production runs like a fine-tuned wrestle mania showdown, as each entertainer is tagged into the ring to show just what they can do.
Buju Banton and Barrington Levy drop a few lines for the intro/chorus before Capleton handles the first verse.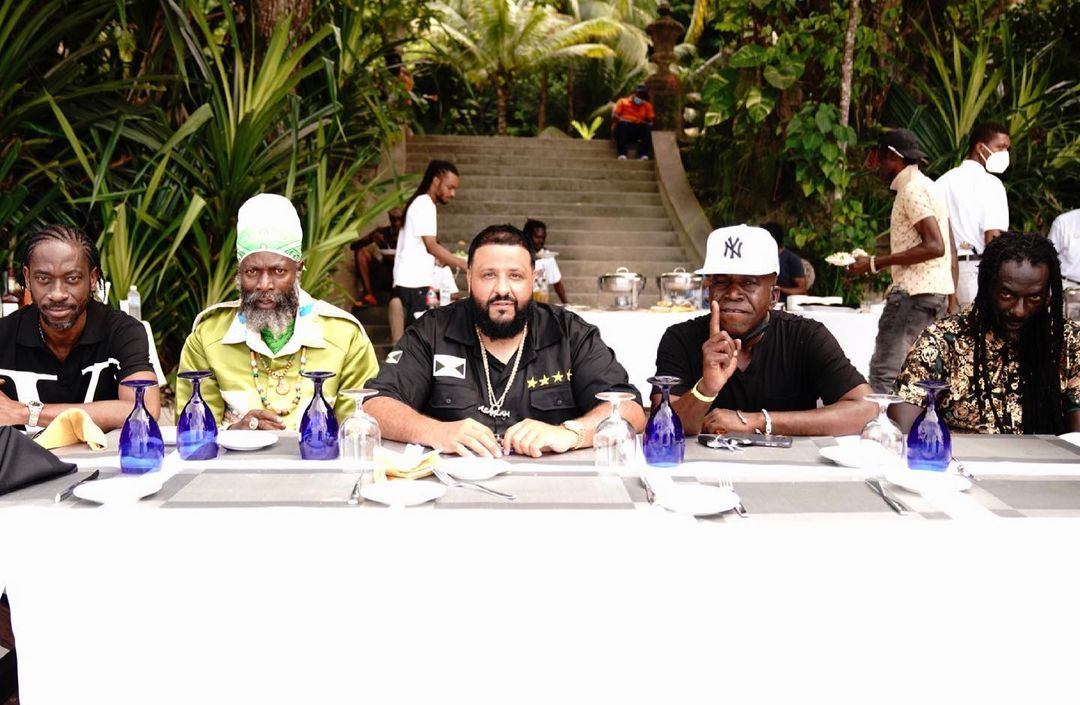 "No pass your place and no cross the lin / And no ask me where me from, 'cause me no hard fi find / And the nation where stand up at the cost fi mine / Right now me a go roll up another spliff, it just pass me mind / Lowe the music, lowe the weed, a poverty cause the crime," the fireman chants.
The Poor People Governor Bounty Killer is a bit more abrasive than the rest in how he wants to take on the "revolution," however, the desired outcome is pretty similar.
He deejays, "Premier League, we have the Arsenal fi fight the revolutionary battle / 'cause only the bottle them fi pour / The youths them fi rich, equal rights empowerment / Tell them fi leave the sun fi shine / or black rain will shower them."
DJ Khaled journey to Jamaica a few weeks ago with his family to capture visuals for what is now his 12th studio album. Fans are already calling for a music video for this joint. However, it's unclear if this release will be blessed with one. The music video for "Sorry Not Sorry" by JAY-Z and James Fauntleroy, with harmonies from The Hive, is the only visual to be released so far.
Khaled's album also features other super teams such as Lil Baby and Lil Durk, Nas, Bryson Tiller, Lil Baby, Roddy Ricch, H.E.R., Migos, Justin Bieber, 21 Savage, Post Malone, Megan Thee Stallion, Lil Baby, DaBaby; Bryson Tiller, H.E.R., Meek Mill, and Rick Ross, A Boogie Wit da Hoodie, Big Sean, and Puff Daddy.
You can check out "Where You Come From" below.
Share this:
---
---
Yah, Buju Banton alongside Rancid, yeah
Taking a walk along the reggae boulevard
Oh yeahh
Where the sun always shine
Beauty the best you can find
People say warm good feelings
Come on lets go stop wasting time
Where reggae music take on that mystical fawn
Tropical sunrise before day dawn
Everyone should have such experience
So when you go just tell your friends
No more misty days
No more rainy days
Tired of seeing haze
Oh sweet Jamdown
Here we go
Worldwide what a joy it bring
Thanks and praise to the Almighty King
As the plane touch down I feel the wind
Nostalgic homesick feeling
Sweet Jamaica island in the sun
Cultural basket endless fun
Ackee and saltfish with run down
Oasis in the desert any thing we plant come
No more misty days
No more rainy days
Tired of seeing haze
Oh sweet Jamdown
Here we go
See natty dread, flash him natty
Pestilence spread feel so happy
Fullness had never been told
Men eyes must behold
Reggae boys hold ball and score goal
No more misty days
No more rainy days
Tired of seeing haze
Oh sweet Jamdown
Here we go
---
---
Veteran Dancehall artiste Buju Banton has re-released "Not An Easy Road" off of his highly anticipated 25th-anniversary edition of Til Shiloh. The album will be available on December 18 under Island Records/UMe.
The collector's edition of the album includes some exciting features like the original recordings from the very successful album, along with three new bonus tracks mixed by Buju Banton himself. Another song that is expected to get a facelift is "Wanna Be Loved". He's also announced that "Come Inna The Dance" is a new track, which will be added to the album. The track was meant for Til Shiloh put was pulled off the finished album.
Buju Banton has hinted that there will be other surprise features on the reworked album including the instruments that he used to make the album and how they can be traced back to Africa. The Gargamel has been in the news within recent times for some unpopular opinions including his anti-mask stance.
It's believed that his stance cost him the Caribbean American Heritage (CARAH) Award which he was to receive later this month. Banton was going to be honoured for his outstanding contribution to reggae music at the virtual event on November 20 but his name was left out from an updated press release issued by CARAH's community administrator, Sharon Williams, about the ceremony.
Banton shared the news about the re-release on his Instagram. Alongside a small snippet of the song he captioned the post: "Remix ?? out now with the pre-order of #TilShiloh25 #NotAnEasyRoad."
View this post on Instagram
In a previous post that he used to announce the release of the song he said: "It's Not An Easy Road Remix ?? Tonight Midnight #TilShiloh25 #TBT," to which DJ Khaled responded: "There a remix ! My brother send me that . Ofcourse I'm stream it tonight . JAH LIVE !"
View this post on Instagram
---
---
The Grammys have announced the nominees for Best Reggae Album.
The highly anticipated list of Grammy nominees for Best Reggae Album has finally been released, and while dancehall takes another snub, a newcomer got a Grammy nod. This year there are five nominations that somehow are less surprising after you see them. Buju Banton appears first on the list for his album Upside Down 2020, which was released in July and debuted at No. 2 on the Billboard Reggae Albums chart. This marks the fourth career nomination for the Grammy Award-winning reggae singer who could be looking to take home another gramophone.
Toots and Maytals got a Grammy nod for their final album Got to Be Tough, which was released in August. The project was another 2020 testimony about oppression, systematic racism, and social injustices. Toots of Toots & The Maytals passed away the month after the album was released due to complications with the coronavirus and a longtime health issue. The band has been around since the 1960s, and throughout their career, they've earned two Grammy Awards: for Best Reggae Album in 2005 and Hall of Fame in 2008.
The Wailers were also nominated for their album One World while Maxi Priest earned his first Grammy nod in two decades for his album It All Comes Back to Love. For the first time, Skip Marley has been nominated for the Best Reggae Album Grammy thanks to his debut project Higher Place which was released in August. The EP had a star-studded list of guest stars, including the title track, which features the late iconic Bob Marley. There were also collaborations with Damian Marley, Rick Ross, and R&B sensations H.E.R. and Ari Lennox.
Who do you think will take home the Grammy Award for Best Reggae Album in 2021?
BEST REGGAE ALBUM – Grammy
Upside Down 2020 – Buju Banton
Higher Place – Skip Marley
It All Comes Back to Love – Maxi Priest
Got to Be Tough – Toots & The Maytals
One World – The Wailers
---
---
Beres Hammond and Buju Banton on the same stage would be one for the ages.
Buju Banton is a few months away from being released from prison and several local promoters are already gearing up for his return to the musical scene. One thing is for sure, his first concert will be a grand affair. Reggae legend Beres Hammond has already indicated that he wants to share the stage with the Gargamel and he doesn't care where the show will be.
Beres and Buju have collaborated on a number of singles over the years including "Pull It Up" and "Who Sey (Big Man Don't Cry)." The two singers have remained closed friends outside of working together musically. Buju Banton, whose real name is Mark Myrie, is currently in the final year of his 10-year prison sentence in Florida for drug trafficking. He is slated for release in December of this year.
The last time Buju performed at a concert was in 2011 at a show in Miami during his high profile drug trial. The Grammy-winning reggae singer was convicted on three counts of drug trafficking charges in 2011 and sent to federal prison for 10 years. He appealed the conviction several times over the years but lost on all of his attempts. Since his incarceration, Buju has not released any new music and sources say he has been writing behind bars so you can expect some new music later this year or early next year.
---
---
Popcaan has a clear message for his enemies and that is he is "Rich & Bad."
The Unruly Boss teamed up with producer Markus Myrie, Buju Banton son, for the new dancehall banger. "Pu**y dem diss man a die out / Can't diss one and fly out / New submachine man try out / Rich and bad, yeah," Popcaan deejay over a drum heavy beat. "The Killy dem make a murder step / Assault rifle a beat, so a murder make / And anuh no likkle girl a step / Hundred buss dem head with the Intratec."
This marks the second single released by Popcaan this month. He also drop the visuals for his gangsta anthem "El Chapo" earlier this month, sending a signal that he is ready for war. Since last year he has been beefing with Mavado and Alkaline and this new track "Rich & Bad" would make for a clever diss record although he didn't released it as a diss.
Listen to Popcaan new song "Rich & Bad" below.
---
---
If Chronixx has his way then the government would promote a massive concert for Buju Banton when he is released next year.
The young reggae act made a surprised performance at Dubwise in St. Andrew last weekend where he calls for the Jamaican government to support reggae music, as well as, to host a massive concert for Buju Banton. "It is the number one export in this country," Chronixx said about reggae/dancehall music.
"It's the only thing that we export all year round. The city of London invite me the city of Kingston neva invite me to do a show yet, enuh," the singer added. "They don't think it's worth it to say we are going to put in our budget $20 million for Buju Banton and Sizzla to perform."
Buju Banton is a legend in reggae and dancehall music after starting out his career doing hardcore dancehall and later transitioned into Jamaica's more conscious musical art form. The Grammy-winning reggae singer is currently serving a 10 year prison sentence for drug trafficking and will be released from prison at the end of next year. Buju was convicted in 2011 for three counts of drug trafficking and filed numerous appeals which he lost.
Do you think that the Jamaican government should fund a Buju Banton benefit concert when he is released?
---
---
Looks like Rihanna finally got her money from the b*tch.
Last night, Rihanna posted a pic Instagram of herself standing in front of a giant $100 bill painting. RiRi looked stunning as usual, but it's the painting that's getting the most attention from her fans. In 2015, she had one of the biggest singles on the planet "B*tch Better Have My Money" a song that spawned a very explicit music video of the pop star torturing her accountant and his wife. In the pic, she donned an 80s themed outfit that was recent debut at the Paris Fashion Week.
The pic has already inspired a few memes most of which centered around the smash hit single "BBHMM." "How you feel when you finally get your money from the b*tch," one fan wrote, while another added, "My gal RiRi finally get her money from that bish just look at the size of that dollar bill." Rihanna is creating a bit of history of her own on Billboard despite dropping her last album almost two years ago. This week she became the first artist to have five number one singles on the Billboard Dance Club Songs chart in a single calendar year.
Aside from racking up more accolades on the charts, Rihanna recently conquered the cosmetic products market with the release of her Fenty Beauty line of makeup products. Her Fenty Beauty products have been selling out as fast as they can be stocked and other competitors in the market are already feeling her presence. The Bajan pop star is also quietly working on her upcoming album. She has a song coming out with incarcerated reggae legend Buju Banton. There is no word yet on when the new project will arrive, but she has already started registering some songs slated for release in the coming months.
---
---
---
---
---
---
---