---
"Within an hour I was trained to work on a crane installation, took all financial responsibility"
Snake Island, which is located in the north of -western part of the Black Sea. It has long passed under our control, but the Ukrainian armed forces have already made several attempts to retake the island, which is of great importance. Deputy Andrey Gurulyov, citing his sources, spoke about one of the episodes of the defense of the island.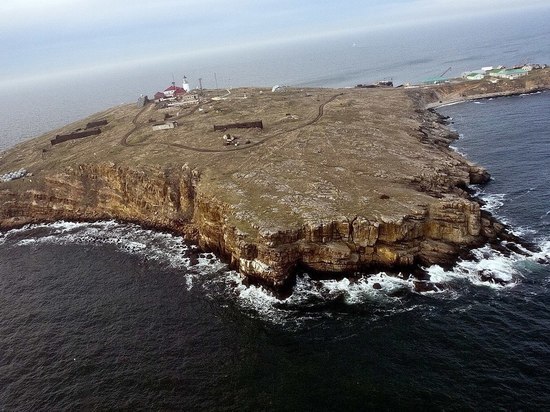 Photo: ruwikipedia
In his Telegram channel, the deputy said how exactly the anti-aircraft systems were delivered to the Zmeiny to defend the island. He highlighted the role of Deputy Commander of the Black Sea Fleet for Logistics, Major General Mikhail Yasnikov. Judging by the deputy's story, this general deserves special respect.
The task was set to deliver the Russian anti-aircraft systems "Pantsir" and "Tor-M" to Zmeiny. They are able to protect the island's garrison from air strikes and missiles. However, the delivery of heavy anti-aircraft systems ran into problems. A floating crane was needed to load the complexes onto the ship, and then to unload them onto the island. But on the floating crane SPK-54150, the team is made up of civilian sailors, who cannot be sent on a combat mission.
And then Major General Mikhail Yasnikov personally, together with a civilian crane operator, first by helicopter and then by boat, arrived at the floating crane, which was at sea. During the loading of the Pantsir-S anti-aircraft complex, it turned out that it was too heavy for a landing craft. The only way out is to go to the island on a floating crane.
The civilian crane operator refused to take any chances. And then Major General Yasnikov, as Gurulev writes, "was trained to work on a crane installation within an hour, took all financial responsibility."
16 members of the boatswain's team with two fast boats arrived to help. The transition of the crane to the island was covered by anti-aircraft missile systems of support vessels. Already during the unloading, the enemy attacked the island with a Tochka-U missile. She hit by, no one was hurt.
Already 20 minutes after mooring, the Pantsir anti-aircraft missile and gun system, unloaded onto the pier personally by the "crane operator", took up combat duty and almost immediately released three anti-aircraft guided missiles against Tochka-U.
After that, Yasnikov unloaded the Tor-M2 complex onto the island. At the moment of unloading, Pantsir again opened fire and shot down a Ukrainian missile above the surface of the water. Presumably, it was the Neptune anti-ship missile, which was heading for a floating crane.
The determination and courage of Mikhail Yasnikov, who took full responsibility, led the people behind him, the courage and heroism of all the crew members and the boatswain's team, writes the deputy, they allowed to save all the military personnel who guard the Snake Island. We need control over this island, it is a strategically important object.
---
---
---
---
---
---