---
"There are all indications that this is Tochka-U"
Ukrainian troops launched a strike with a Tochka-U tactical missile at the railway station in Kramatorsk, where they were at that time hundreds of people who were about to leave the city. According to the headquarters of the People's Militia of the DPR, fragments of the rocket fell in close proximity to the station. MK asked an expert to comment on this shelling.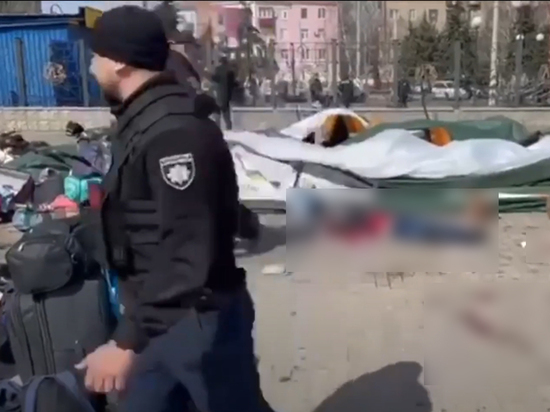 Photo: Frame from video
According to the DPR military, this obsolete Soviet missile system is not in service with the corps of the republics. But Ukrainian militants are actively using it. The Ukrainian side denied involvement in the shelling and blamed the Russian troops for everything.
Here is what a military expert, editor of the Arsenal Patrony's magazine Oleksiy Leonkov said about this:
– Ukrainian troops launched "Tochka-U" from the line of contact in the south-west, with the expectation that they could blame us. Initially, they even stated that the missile attack was carried out not by Tochka-U, but allegedly from the Russian Iskander missile system. Later, Zelensky's office denied this message.
There are all signs that this is "Point-U". Photographs from the scene show the tail section of the missile, which always remains after the use of cluster munitions. On the rocket itself is written in Russian "For the children." Apparently, the organizers of this crime considered that such evidence was more than enough.
But there are facts. First, the Russian army got rid of Tochka-U missile systems in 2019. Secondly, we did not get launchers as military trophies. And thirdly, all Tochka-U missiles fired earlier flew mainly towards Russia. Ukraine launched dozens of these missiles. According to some foreign sources, the Armed Forces of Ukraine were armed with about 90 launchers and about 800 missiles. Earlier it was reported that Russian troops destroyed a warehouse near Ivano-Frankivsk, but apparently, this is not all that was in the arsenal of the armed forces of Ukraine.
– The strike on Kramatorsk is another attempt to convince the whole world of the aggressive nature of Russia , namely, such propaganda is now actively conducted in the information field. Yesterday, the Kyiv authorities announced that there would be an evacuation from Kramatorsk, the people went to the station, and today they struck at them.
---
---
---
---
---
---