---
The SBU published Medvedchuk's appeal, in which he asked to be exchanged for residents of Mariupol. At the same time, the Russia 24 TV channel showed British prisoners who asked Johnson to help in their exchange for a Ukrainian politician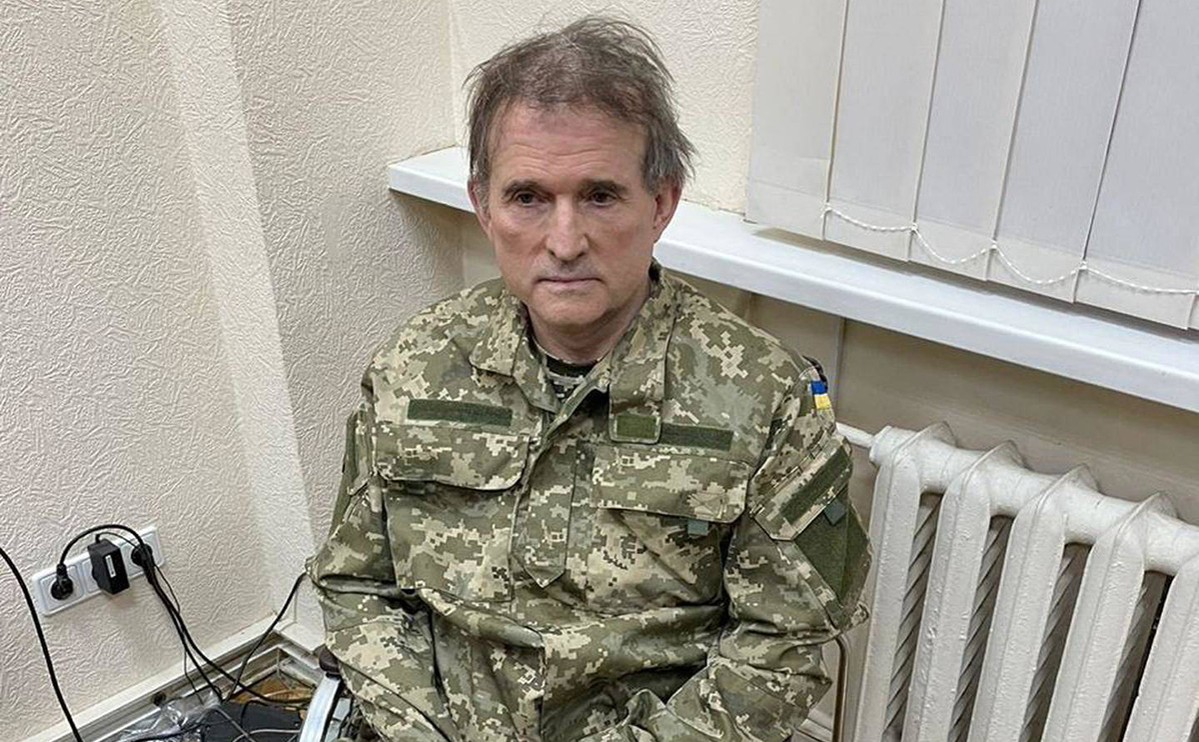 Viktor Medvedchuk
Head of the political council of the Ukrainian party Opposition Platform— For life» Viktor Medvedchuk asked to be exchanged for "defenders and residents of Mariupol". The politician's appeal was published on the YouTube channel of the Security Service of Ukraine.
"I want to appeal to the President of the Russian Federation Vladimir Putin and the President of Ukraine Vladimir Zelensky with a request that the Ukrainian side exchange me for the defenders of Mariupol and the residents who are there today and do not have the possibility of a safe exit through humanitarian corridors",&mdash ; he said.
At the same time, the TV channel "Russia 24" showed two British citizens taken prisoner in Ukraine— Sean Pinner and Aiden Eslin. During the broadcast, they asked the British authorities, in particular Prime Minister Boris Johnson, to assist in their exchange for Medvedchuk.
Video
The videos were filmed in different rooms. Both Britons were approached by a man who showed them on his phone a video message from Medvedchuk's wife, Oksana Marchenko, to Johnson asking them to exchange them for her husband. Eslin, who was sitting in handcuffs, was asked by a man: "Do you think this appeal to Boris Johnson will be heard, and your government will try to exchange you?"
"I think Boris needs to listen to what Oksana said. <…> If Boris Johnson really cares about British citizens like he says he does, then he'll help put pressure on [Vladimir] Zelensky to do the right thing and get Viktor back to his family and us— our families»,— Eslin said.
Read on RBC Pro Pro What is happening to international companies with Russian origin Articles Pro How Netflix overcame two severe crises and "ate" a strong competitor Articles Pro How Fujifilm outperformed competitors and passed a dozen crises Articles Pro The world is waiting for a decade-long commodity supercycle. And that's why Articles Pro Sberbank, VTB and Tinkoff: what will happen to the shares of the largest banks Forecasts Pro Before bitcoin: how a startup from the 90s tried to create a digital currency Articles Pro Turning to the East: what prevents China from quickly entering the Russian market Articles
Ukrainian authorities announced the detention of Medvedchuk on April 12th. Zelensky offered to exchange the politician for the Ukrainian military. The Kremlin responded that Medvedchuk was not a citizen of Russia and had nothing to do with the military operation in Ukraine. "We don't know at all whether he himself wants some kind of Russian participation in resolving this libelous situation against him," — Presidential press secretary Dmitry Peskov said.
After that, Medvedchuk's wife Oksana Marchenko recorded several video messages— to Putin, saying that her husband agreed to the exchange, as well as to Zelensky with a request to release her husband, and to Turkish President Recep Tayyip Erdogan, urging him to use influence to resolve the issue.
In another appeal, Marchenko offered to exchange two Britons for Medvedchuk— Pinner and Eslyn. According to Marchenko, she learned from the media that both men acted as part of the 36th Marine Brigade of the Armed Forces of Ukraine and "surrendered" the military of Russia and the DPR. She turned to the relatives of the captured British and said that it was in their power to "ask <…> Johnson to influence the Ukrainian leadership and obtain the release of Aiden and Sean through their exchange.
The Russian Foreign Ministry, commenting on Marchenko's proposal, noted that Johnson, who recently visited Kyiv, "is certainly aware of the fate of subjects of the Royal Majesty." "Do not be slow with the answer. And Liz Truss will tell you what the British did in principle there, — said department spokeswoman Maria Zakharova.
Medvedchuk— godfather of Putin. Russian President— godfather of the daughter of a Ukrainian politician. In Ukraine, several criminal cases have been initiated against Medvedchuk, including under the article on treason, under which he faces a sentence of up to life.
From May 2021, Medvedchuk was under house arrest, but in February 2022, the Ministry of Internal Affairs Ukraine reported his escape. Medvedchuk's lawyer, Larisa Cherednichenko, said that the politician had also received threats due to "a real danger to life." Medvedchuk "was evacuated to a safe place in Kyiv", where he "continues to fulfill the procedural duties assigned to him by the court." Medvedchuk himself called his persecution political repressions.
On April 16, a court in Lvov arrested Medvedchuk without the possibility of bail.
Subscribe to VK RBC Get news faster than anyone
---
---
---
---
---
---