---
A father and daughter have been airlifted to safety after spending two nights clinging to a tree surrounded by floodwaters in Queensland's Gympie region. 
Key points:
The man and his daughter were in their car when it was caught in floodwaters
The father got a rope from the car and used it to tie them to a tree 
They suffered exposure, dehydration and insect bites
The man and his daughter managed to grab on to the tree after their car was washed into floodwaters while they were driving on Friday night. 
The father told rescue crews that on the first night he managed to swim to their submerged car and get a rope, then use it to tie he and his daughter to the tree to stop them getting washed away. 
The waters subsided on Sunday morning, and the two were able to climb down more than 10 metres and get help. 
Both the father and daughter suffered exposure, dehydration and insect bites. They were airlifted to a regional hospital for medical treatment. 
Coastal areas of Queensland are currently bracing for additional rainfall and flooding. There were 75 calls for help across the state on Sunday night. 
Space to play or pause, M to mute, left and right arrows to seek, up and down arrows for volume.WatchDuration: 46 seconds46s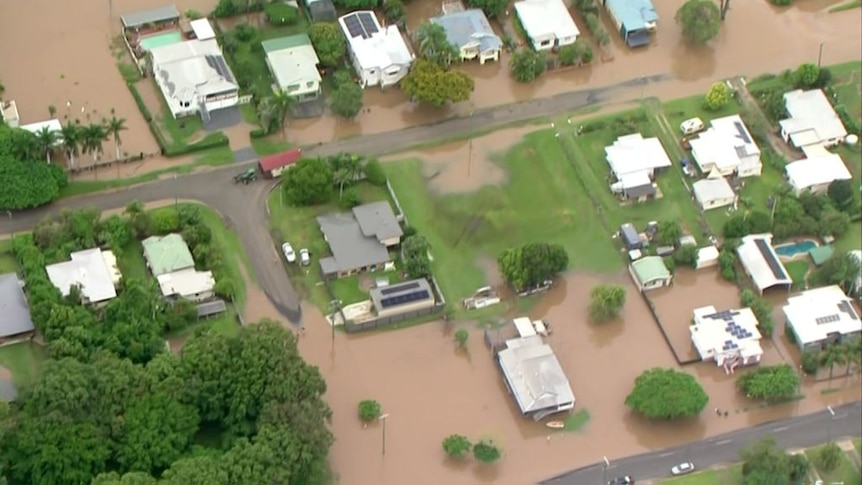 Chopper vision shows scale of the flooding in the Queensland town of Maryborough.
Major flooding was continuing at Maryborough on Monday morning, the Bureau of Meteorology warned.
A peak of just under 10 metres was recorded on Sunday night.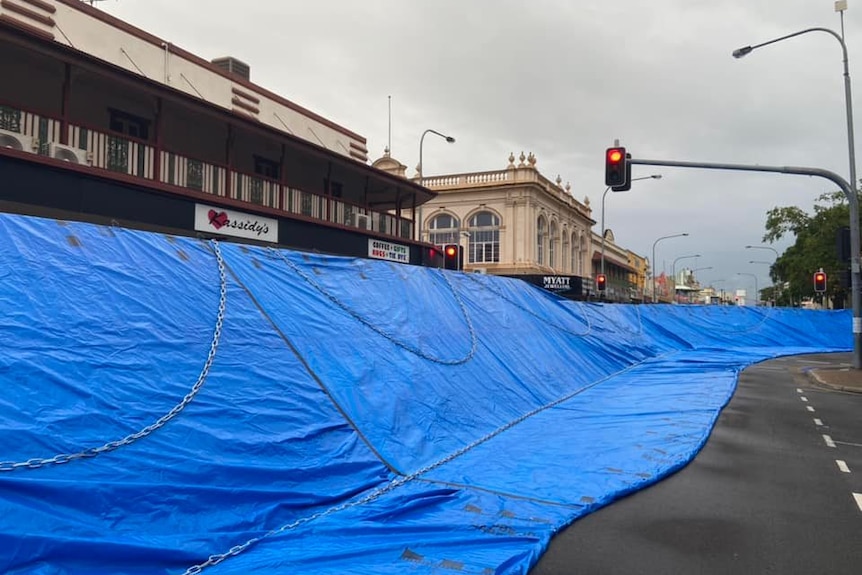 A flood barrier has been installed in Maryborough's CBD.(Fraser Coast Regional Council)
Moderate to major flooding is continuing across the Mary River catchment from Gympie downstream, but river levels are now generally easing.
'Grave fears' for 14yo girl
On Sunday, police said they held "very grave fears" for a 14-year-old girl swept away by floodwater near Gympie.
The girl's 53-year-old father was rescued by emergency services just after midday on Saturday after being located clinging to a tree.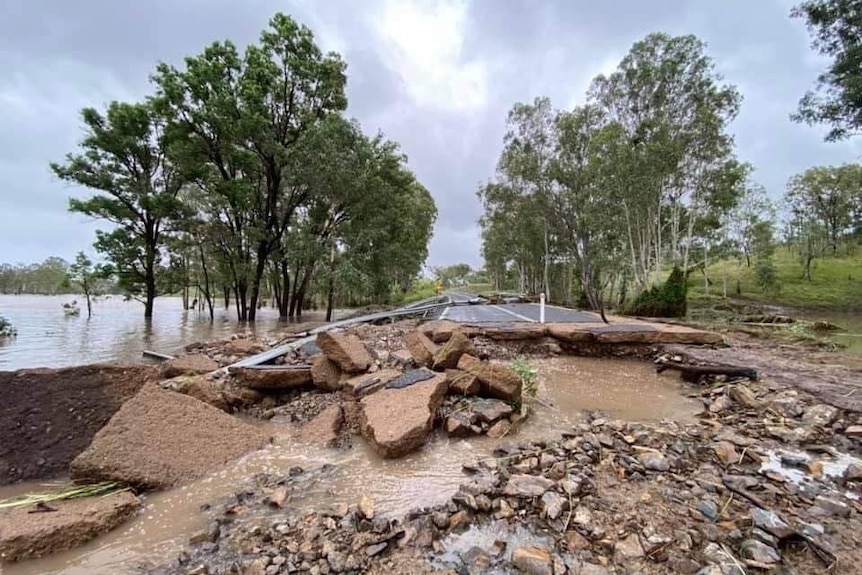 Flooded and smashed the Burnett Highway, west of Gympie in south-east Queensland.(Supplied: Susie Ross )
Deputy Police Commissioner Steve Gollschewski said police teams were scanning the area but difficult conditions had hampered the search.
"We have deployed PolAir and we have specialists water police and dog squad members on the ground, as well as SES and other emergency services," Mr Gollschewski said on Sunday.
"This is a very, very difficult environment. We are unable to get in there and conduct that search appropriately at the moment."
Loading
QFES Assistant Commissioner Stephen Smith said work is underway in Maryborough to reduce the impacts of significant floodwater damage overnight.
He said the flood was caused by "a valve in the stormwater system [which] allowed water to come through," but reassured residents work was being done to ensure the town "bounces back stronger" for the next weather event.
"Maryborough is a town that is used to flooding and they have a very well-practiced and well-planned response and that will be activated over the next few days."
Disaster management group to meet today
State Member for Gympie Tony Perrett said his property had received 946 millimetres of rain during last week's deluge.
Mr Perrett became stuck in Hervey Bay after visiting there for a holiday last week.
"We've been here since Wednesday last week, we were stuck here with the roads cut, and are heading home today," he said.
But he didn't think his property had sustained any damage during the flood.
"We had almost a metre of rain, but we were lucky," he said.
"Our property is right at the head of Boonara Creek near the Burnett River that was the worst hit waterway."
Mr Perrett said the Local Disaster Management Group would meet in Gympie this morning to debrief about the flood and recovery efforts.
Source: https://www.abc.net.au/news
---
---
---
---
---
---
---