---
"Americans struck the first blow"
The protests in Kazakhstan, according to political scientists, are not only an internal affair of this country, but also have an international connotation. The President of Kazakhstan, Kassym-Zhomart Tokayev, made concessions and announced a price cut, but the unrest after that not only did not stop, but even intensified. Is the "Ukrainian scenario" possible in Kazakhstan? Yuri Lyamin, a military expert and co-author of the Allies book of the Center for Analysis of Strategies and Technologies (CAST), answered this question to MK.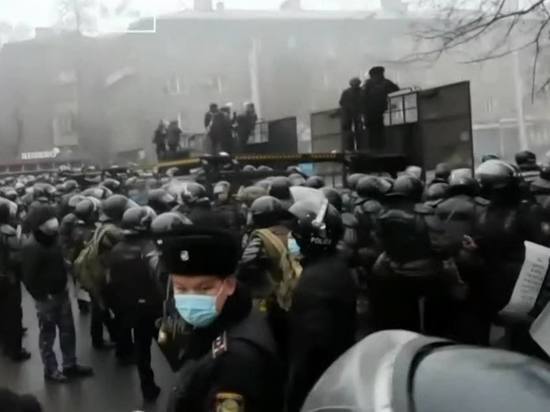 Photo: Still from video
"Now it is difficult to predict the development of the situation. But it is already clear that in the event of further destabilization, various external players will try to take advantage of this for their own purposes, – said Yuri Lyamin. "Kazakhstan is of great strategic importance not only for Russia, but also for China, therefore our foreign policy opponents and rivals can make great efforts to develop the situation in a negative way for us."
A similar opinion is shared by the Belarusian political scientist Alexander Shpakovsky, who published his observations on Telegram.
"Of course, no one expected protests in Kazakhstan, but it cannot be said that these events greatly surprised anyone. Such situations always have prerequisites: in Kazakhstan, there is an acute problem of social differentiation, and the degree of corruption of local authorities is very high, the political scientist states. – Only Nursultan Nazarbayev could balance this explosive mixture. But recently, footage went to the public space where people saw for the first time that the Elbasy (Nazarbayev's title, translated from Kazakh as "leader of the nation" – "MK") is actually very weak. "
As a result, "peaceful protests" were not long in coming, the political scientist notes. "It is safe to say," wrote Alexander Shpakovsky, "that the underground infrastructure was very well prepared. The danger also lies in the fact that the ideas of nationalism and Islamic extremism are very often the outlet of protest energy for many people. " , thereby trying to either divert forces and means from the Ukrainian direction, or to disperse Russian forces as much as possible. "
" Given the importance of Kazakhstan in the context of Russia's interests in Central Asia, it is possible that forces will have to The Collective Security Treaty Organization, which includes Russia, Kazakhstan, Belarus, Armenia, Tajikistan and Kyrgyzstan, "said Alexander Shpakovsky.
In Kazakhstan, the increase in fuel prices provoked riots: shots of pogroms
See the related photo gallery
---
---
---
---
---
---
---