---
White House: Biden, after a conversation with Putin, will confirm Zelensky's support for Ukraine During the talks, Biden will discuss data on the increase in the number of Russian troops on the border with Ukraine. The conversation will take place immediately after the talks between Putin and Biden, during which the American president threatened Russia with sanctions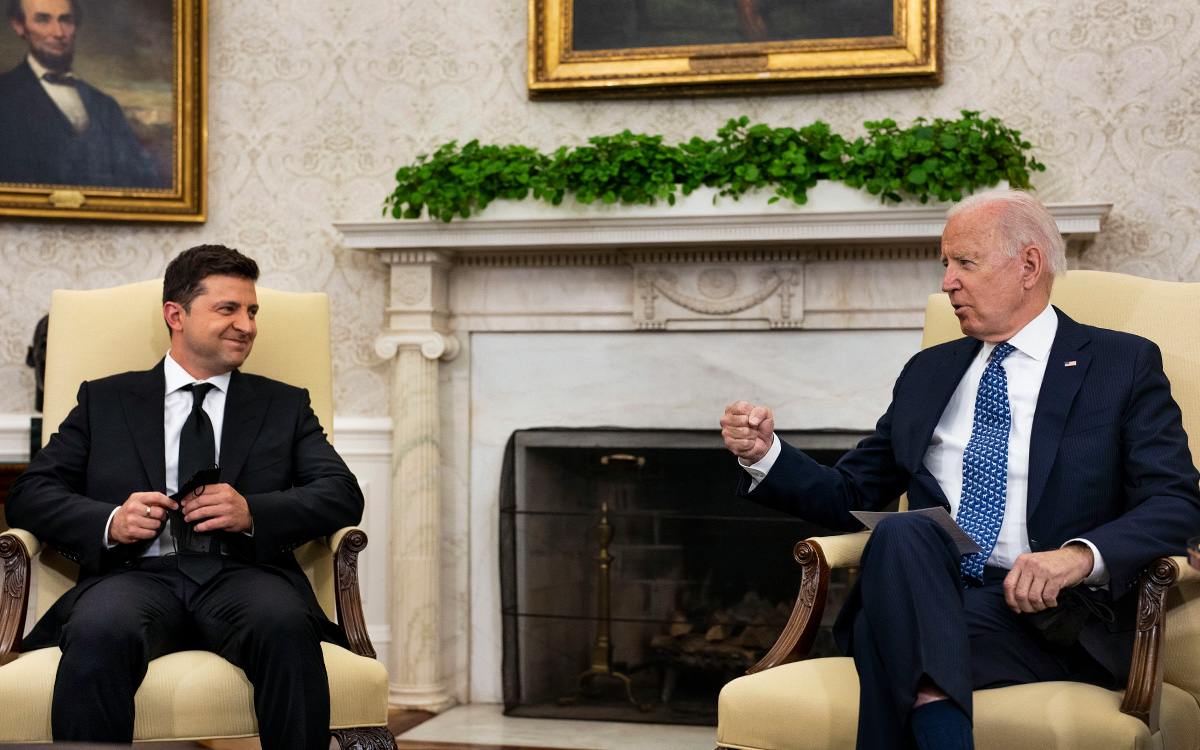 Vladimir Zelensky and Joe Biden
US President Joe Biden will hold talks with Ukrainian President Volodymyr Zelensky. The interview will take place on Sunday, January 2, 2022. This was stated by a representative of the White House, Reuters reports.
Biden will hold the conversation to confirm the support of the sovereignty of Ukraine from the United States, the agency said. Also, the presidents are going to discuss the " build-up of the Russian military '' on the border with Ukraine and how they can diplomatically resolve the situation in the region, added a White House spokesman.
Later, information about the negotiations was confirmed by Zelensky. On his Twitter account, he wrote that he was looking forward to the talks "impatiently." The conversation will be devoted to " coordinating our steps in the name of peace in Ukraine and security in Europe, '' the President of Ukraine added.
Negotiations between Putin and Biden took place on the night of December 30-31. Then the Russian president told the American leader that " we attach great importance to the negotiations '', but at the same time they " should not turn into chatter, '' said the assistant to the Russian leader Yuri Ushakov.
< p>During the conversation, Biden made it clear that Washington would go for " drastic measures '' if Russia launched an invasion of Ukraine, said Jen Psaki, White House spokeswoman. Putin, in turn, said that if the West imposes " unprecedented sanctions '' on Russia, the result will be a complete break in relations between the two countries. The President of Russia noted that in this case, relations between states would suffer " the most serious damage, '' Ushakov specified.
In the fall of 2021, several Western media outlets, among them & mdash; Politico, The Washington Post and others have repeatedly published data on the buildup of the number of Russian troops near the borders with Ukraine and on the preparation of an " invasion ''. Russia to this country. Moscow denied these data, pointing out that it had no such plans. Also in early December, during a video summit with Biden, Putin pointed out that " NATO is making dangerous attempts to conquer Ukrainian territory. '' and that the North Atlantic Alliance is engaged in building up military potential near the Russian borders.
At the same time, Kiev did not see the threat of a Russian invasion in the near future. This was announced on December 30 by the Secretary of the National Security and Defense Council (NSDC) of Ukraine Oleksiy Danilov. According to him, there are no grounds for the introduction of a state of emergency in the country yet, and the data on the impending " invasion '' he called " one of the information attacks on Ukraine, when they are trying to intimidate us with something. ''
Subscribe to VK RBK Receive news faster than anyone
---
---
---
---
---
---