---
We decided to find out how great the "Russian threat" is
The US reconnaissance plane has been patrolling Donbass for three days already: on December 27, it flew over Eastern Ukraine for the first time. The liner took off in Germany, then flew through Kiev almost to Kharkov and turned towards Severodonetsk, from where it proceeded along the line of contact with the LPR and DPR. Near Mariupol, he turned to the west, flew along the northern border of Crimea and returned to patrol the Donbass again. The experts explained to MK what goal the American intelligence officers had set for themselves.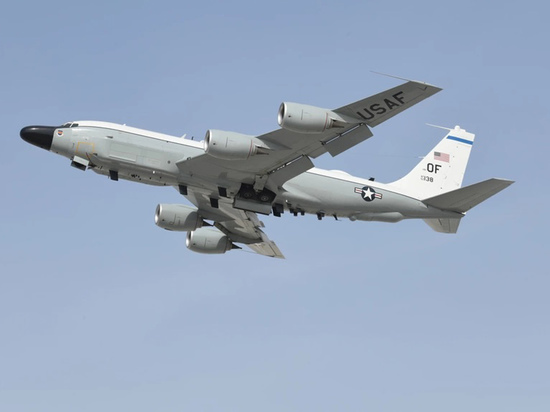 Photo: dvidshub.net
– The flight of the reconnaissance plane over the Donbas proves the relevance of Russia's demands on the United States regarding the inadmissibility of NATO's eastward expansion. "They fly where it is not supposed to fly in order to determine the deployment of the defense forces of the DPR and LPR. Apparently, satellites are not enough for this. While the military is collecting information just to have it. Apparently, the troops understand that politicians can ask them for data on Donbass. In turn, politicians will need this information in order to decide whether to start a war, and if so, when and where exactly. In particular, this suggests that the United States has different opinions on how to deal with Ukraine, the expert told MK.
In turn, retired FSB general Alexander Mikhailov noted that the reconnaissance aircraft collects audiovisual information, monitors negotiations, records the presence of troops, and so on. However, according to him, this does not mean that Washington is preparing for war. "Over time, there will be more and more of these flights. The Americans want to understand the real situation in Donbass, because the speculative conclusions of various experts contradict what is happening in practice. As a result, the world periodically falls into hysterics due to the allegedly existing "Russian threat". In this sense, trusting the Ukrainian authorities means plunging into lies and extortion of money. Moreover, the Ukrainians themselves do not know what they want from the DPR and LPR. They are not going to either release them or accept them back, "Mikhailov emphasized.
At the same time, the FSB general said that Russia is not going to attack Ukraine. He believes that Moscow does not want to wage a war on the territory of a foreign state at all. Nevertheless, Russia wants the citizens of Ukraine, who are not needed by their country, to become its citizens.
Recall that on December 30, the heads of Russia and the United States, Vladimir Putin and Joe Biden, are going to hold telephone talks at the initiative of the Russian side. They are expected to discuss the situation in Donbass and Russia's demand for NATO to ensure that it refuses to move to the East. And on January 10, Russian-American talks on strategic stability and security issues will take place. This will be followed by meetings of the NATO-Russia Council and the OSCE.
---
---
---
---
---
---
---