---
"I'll go to work as a janitor if they hire me"
Syed Sanaulla is a native of Afghanistan, a graduate of a higher military school in Tyumen. Before the Taliban came to power (the Taliban was recognized as a terrorist organization banned in the Russian Federation), he had a prestigious job in a government department. In an instant, the guy lost everything – earnings, home, freedom. Sayed managed to get to St. Petersburg – he told about the ordeals he had to get to Russia and why he had to get a job as a janitor.
Syed Sanaullah in Afghanistan Photo: From personal archive
Last fall, Syed, on behalf of Afghan students, turned to the Russian Foreign Ministry with a request for evacuation. All the students the young man asked for were taken out. But Syed himself did not get on the rescue flight. He had to get out of the country on his own.
Syed is now in St. Petersburg. He passed exams remotely and entered the Peter the Great Polytechnic University.
Sanaulla is a graduate of the higher military school in Tyumen. He graduated from the university with honors, received the profession of a civil engineer. After graduation, he was given a prestigious job in Afghanistan in the security department. After the Taliban came to power, it became dangerous for him to remain in his homeland. Syed decided to leave. He passed exams at the St. Petersburg Polytechnic University remotely. I entered the magistracy. Received a study visa to the Russian Federation.
But here we have problems with moving from Afghanistan.
"The story of my return from Afghanistan to Russia is long and sad," Syed began. – I received a student visa on November 15. Together with other students, I was waiting for an export flight from Russia to fly out of the country. Time passed, the plane did not arrive.
Some guys could not resist, went to Russia on their own, through Iran. They had money for a transit visa and air tickets. I didn't have the funds to purchase a ticket. I was waiting for the export flight from Russia to Kabul. I didn't even go to my parents' home to say goodbye. They live in the north of Afghanistan, where the road is often blocked due to avalanches. I was afraid that if I got stuck there, I would miss the evacuation.
In mid-December, Russia evacuated some of the students from Afghanistan. Syed did not make it to the flight.
– I was not in the lists of passengers, – continues the interlocutor. – But I was reassured that another flight is planned a little later. And I waited again. Soon, the Russian embassy in Kabul published a second list of passengers. And again I am in flight. Although the lists included even those students who by that time had already left Afghanistan on their own.
– My university put me on the list to be allowed to cross the border of the Russian Federation. I don't know for what reasons they didn't take me away. Maybe they just forgot? I have not received a specific answer. I decided to get out myself. I understood that we must act as soon as possible. But the catch is that I had no money for a plane ticket.
– I decided to leave by land via Iran, it's cheaper. It was necessary to issue a transit visa for Iran, pay for moving there and buy a plane ticket to Moscow. Everything about everything came out to 700-800 dollars.
There was no one to borrow money from in Afghanistan. An acquaintance from Moscow, when he found out about my situation, transferred the required amount to me. Then the painful saga of obtaining an Iranian visa began. I applied to the Iranian embassy in Kabul three times. They refused to issue me a visa. They explained that they only draw up documents for those who fly by plane. I could not afford the flight.
Then I went to Jalalabad, where the Iranian consulate was located. From there I was also sent. They said that residents of my province need to get a visa in another city.
I went to the opposite end of the country. 15 hours by bus. I got a visa there. He returned to Kabul. A few days later I went to the province of Herat, which is located on the border with Iran. The bus traveled almost all of Afghanistan, crossed 13 provinces. From there it took about three hours by car to get to the border. Then he walked for half an hour with luggage to cross the border.
"The Taliban asked me almost nothing. We just checked the luggage and asked if I had dollars with me. The fact is that they do not allow those who travel abroad to carry dollars with them. I admitted that I had 400 dollars with me. They ordered to exchange them for Iranian currency. The exchange rate there is low, on the exchange I lost 50 dollars – for me this is a significant amount. And in Iran, only citizens of the country can buy dollars. Okay, one person agreed to change for me. Then I drove to Mashhad, from there to Tehran.
Syed Sanaullah in Iran Photo: From personal archive
Syed lived in Iran for more than a week. I passed tests for coronavirus, booked tickets to Moscow.
– In Iran, I exhaled, I felt safe, – the young man continues. – People live there normally. Although they also complain about low incomes and high taxes. I told them, they found something to complain about, the main thing is that you live in peace. Whereas in Afghanistan, crowds of hungry people are sitting on the streets with outstretched hands.
– I would not say. First, I booked a Qatari airline ticket to Moscow. 7 hours before departure, they called me from the airline and told me that they would not give me permission to fly, they would not release me from the Moscow airport, because my data is not on the State Services website. I canceled my flight.
I contacted the university – they had to solve these problems. It turned out that on December 20, the rector issued an order: in connection with the spread of the new strain of the Omicron coronavirus, it is forbidden to add foreign students to the list of visiting foreign students. I was shocked. Where should I go now? Back to Afghanistan – no way. Staying in Iran is also not an option.
I began to write to almost all employees of the university, including the rector and head, who deals with foreign students. For three days I was solving the problem. Begged for help me. They heard me. I managed to rebook my ticket and flew to Moscow via Qatar. But until I overcame the border control in Moscow, I was still nervous. I was afraid that I would suddenly be deported back. The trip was hard.
– I stayed in the capital for two days. But I didn't really have time to look at anything. A Russian friend, with whom we have known for three years, helped me with booking accommodation. I, in turn, helped one student from Afghanistan who entered the university in Blagoveshchensk. I figured out the purchase of his air ticket, then escorted him to Domodedovo. The next day, I finally bought myself a train ticket to St. Petersburg and left. Using the map I got to the university dormitory. I am sitting on self-isolation. They put me alone in a room. It's warm and good here. Now the worst is over.
"I plan to eat once a day, I'm used to it"
– $ 350 left. I missed a lot, so I want to take an academic leave. I plan to start studying in September. Although the teachers suggested that I take the session now, they will forgive my omissions. But I don't want to receive grades out of pity. I need a normal education. When my documents are completed and registered at the hostel, I will start looking for a job. It doesn't matter who. A janitor or clean the premises, if they take it. The main thing is to earn at least a little for yourself. Maybe the parents will be able to help.
– It makes no difference to me now. We'll have to survive somehow. Although I graduated from the former university with honors. After the New Year, I will try to apply for a residence permit. It seems that there is a decree of the President of the Russian Federation that foreign students who have a diploma with honors are given a residence permit. If I get a status within 3-4 months, then I can find a normal job.
– Which embassy? My friends say there is no work there. Everyone is at home.
– I have not studied this issue yet. So far I downloaded a special application with vacancies. The choice is huge. The main thing is to be accepted. Otherwise, my friend, who recently came to study in Yekaterinburg, cannot find a job for three weeks. He is not hired even for the simplest job. He comes for an interview, but he is denied only because he is a foreigner, and even more so from Afghanistan. They say they only want Russians.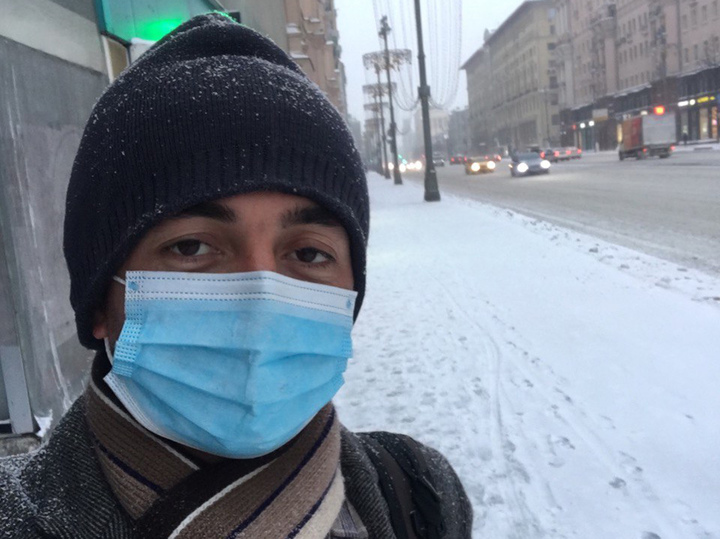 Syed Sanaulla in St. Petersburg Photo: From personal archive
– I think I will last a month and a half. I will save. I plan to eat two, or even once a day. I'm used to it. In Afghanistan, too, ate little. It doesn't matter. I don't think about it. The main thing is that I got here. And it won't be worse than it was.
– According to the first diploma, I am a civil engineer. Now I have chosen the direction of urban planning. But I don't know what can be designed in Afghanistan now.
– Of course, I would like to if everything is normalized there.
– There are only a few people whom we met when we applied for visas. They arrived on evacuation flights. Now they are also sitting on self-isolation.
– A little. Mom wanted to give more things, but I said that I drive in cars all over Afghanistan, Iran, it is inconvenient to carry with me. I took a small suitcase, which contained a few things, documents and three books.
"We are not celebrating the New Year"
– They live in the village. They have small stocks of potatoes and onions. Recently, our family refused to use gas, it has risen in price five times. We cannot afford it. They heat the stove with wood. We have trees growing there, they can be cut down. The cattle were sold, the valuables too. Dad works as a teacher at the school. He was recently given a two-month salary. Few, of course. A total of 6 thousand Afghans (4200 Russian rubles). With this money, you can buy rice and butter for a month.
– The main products are rice, oil, flour. They make bread from flour themselves.
– Well, what kind of meat? It has long been forgotten. Many are unable to buy the same flour, oil and rice. Most are limited to flour and sugar. Bread is made from flour, sugar is added to tea. That's all the food. Humanitarian aid does not really reach people. In any case, in the northern provinces where my parents live, there are many poor – none of them received help. I'm worried about my parents. And you ask how I will live here. Yes, excellent compared to them.
– We have our own New Year according to the solar calendar, called "Navruz". It is now the eleventh month of 1400. On March 20-21 a new year, 1401, will come. In Afghanistan, people do not understand at all who Santa Claus is and how the New Year is celebrated all over the world. Anyway, now the situation in the country is such that the people have no time for the holidays. If you are hungry, you have nothing to wear, it doesn't matter.
---
---
---
---
---
---